Ski goggle with interchangeable lens John
NEW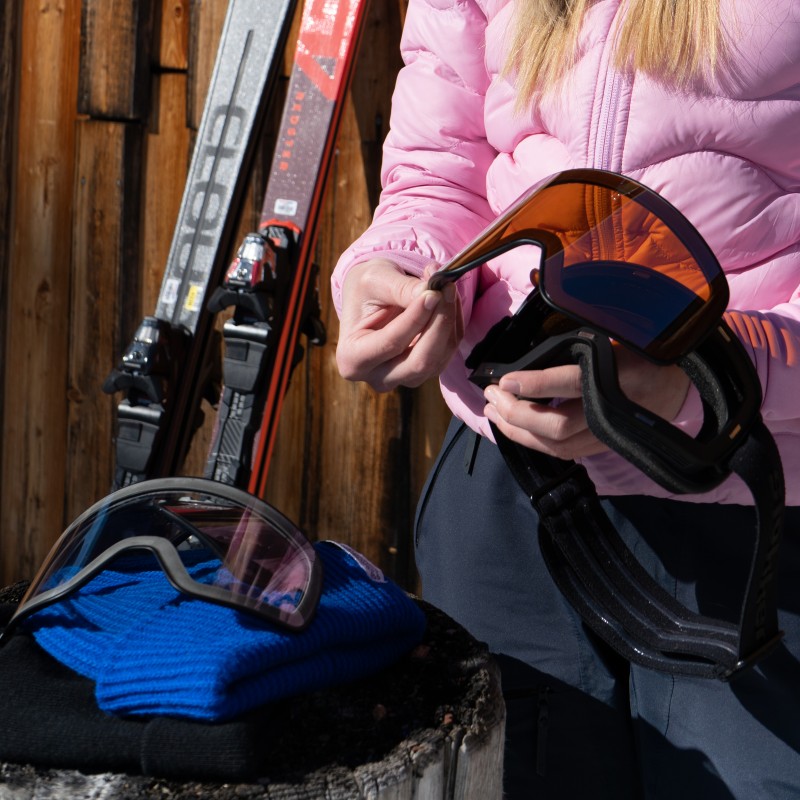 Ski goggle with interchangeable lens John
Have you ever wondered: "Which goggles go with which weather?" The new John ski goggles with their interchangeable lenses are just right for any weather conditions: you can adapt to changing lighting conditions when skiing in just a few seconds with the three different lenses.
New interchangeable lens technology
 Ski goggles with three different magnetic lenses
Mirrored interchangeable lens category 3
Orange interchangeable lens category 2
Transparent interchangeable lens category 0
Eight positioned magnets for a strong grip
100% UV protection
Silicon strips on the lens strap for optimum grip
Ski goggles for glasses wearers
Lens coating 
Optimum user comfort
Italian design
read more
 Color

The new John ski goggles are available in black and green.

The fair-weather lens has black mirroring

Black mirrored lenses are ideal in conditions of bright sunshine or strong reflections. The light is reflected back by the lens, which prevents the eyes from being dazzled. You can easily change the lens in seconds when weather conditions change.

Lens coating

All three interchangeable lenses of the John ski goggles have an anti-fog coating that prevents the lens from fogging in changing temperature conditions.

The lenses also have an anti-scratch coating. This improves scratch resistance and provides additional protection.
Cylindrical goggle lenses

The John ski goggles have three interchangeable cylindrical lenses. The almost frameless design of these ski goggles looks cool and offers a wide field of vision – not only to the sides but also up and down.

Ventilation system 

An effective ventilation system removes humid, warm air from the glasses, thus preventing the lenses from steaming up or fogging. 

User comfort

Comfortable foam prevents pressure marks from forming on the face. The foam adapts to your face to ensure comfortable wearing.

The goggles have adjustable straps for a perfect fit on your head or helmet. The strap has a silicon strip that helps prevent the goggles from slipping when on the helmet. 
UV protection 

John ski goggles with their interchangeable lenses offer 100% protection from UV-A rays. Proper protection against UV radiation is especially important in the mountains as the radiation intensity is particularly high. 

They combine Italian design and functionality for maximum performance when skiing! 

 
Categories overview
Protection level
Category 0
Category 1
Category 2
Category 3
Category 4
Mirroring

Colorless
Very clear glasses

Slightly tinted
Medium tint
Dark tint
Very dark tint
Transmittance
100 - 80 %
80 - 43 %
43 - 18 %
18 - 8 %
8 - 3 %
Use
Very limited protection from sunrays
Limited protection from sunrays
Good protection from sunrays
High protection from sunrays
Very high protection from sunrays