Ski Helmet Rally Photochromic
NEW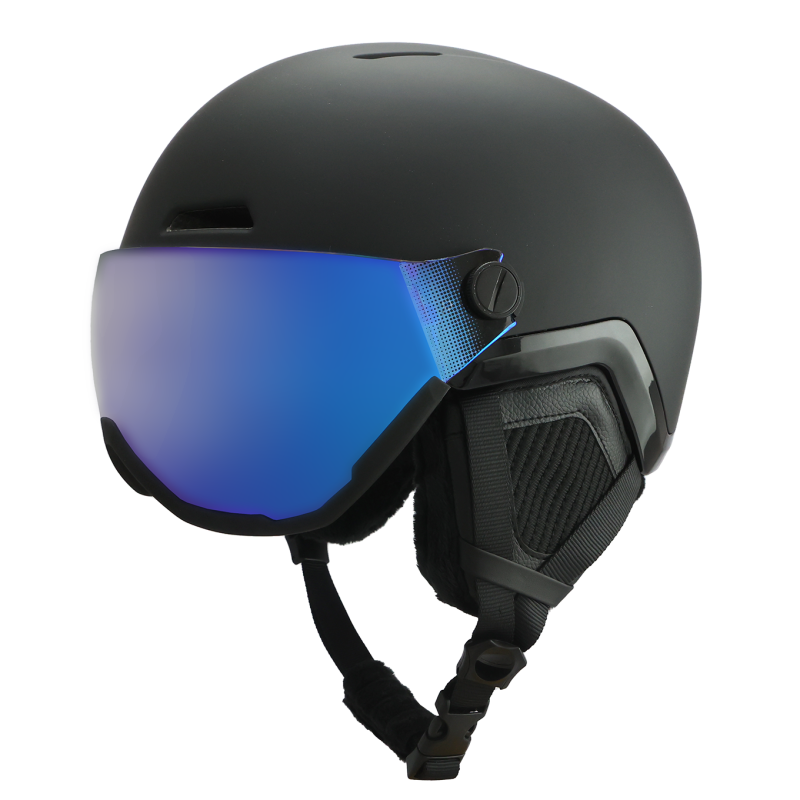 Ski Helmet Rally Photochromic
RALLY SKI HELMET WITH VISOR

The Rally ski helmet with its photochromic technology offers you optimum visibility when skiing. This means you have a clear view in all weathers and are very well protected with the stylish ski helmet.
Photochromic visor: Category 1-3. For good visibility in any weather
Ideal for glasses wearers
Break-resistant INMOLD shell
Weight: 535g
Ventilation system
System with adjuster wheel for size adjustment
Closes with width-adjustable clip fastener
Seamlessly adjustable padded chin strap
Breathable inner fabric
Soft on ears and neck
Meets safety standard EN 1077
read more
VISOR

Tinting and lens colour

The slokker Rally ski helmet has a slightly tinted photochromic visor.

The self-tinting lens of the visor helps your eyes in constantly changing light conditions and thus enable good visibility.

The highly functional photochromic lens (category 1 to 3) automatically adjusts its tinting intensity to changing light conditions. It darkens as soon as the sun begins to shine. It thus offers outstanding anti-glare protection. 

Lens coating

The visor has an anti-fog coating that prevents the glasses from fogging in changing temperature conditions.

The lens also has an anti-scratch coating. This improves scratch resistance and provides additional protection.

UV protection 

The goggles offer 100% protection from UV-A rays. Proper protection against UV radiation is especially important in the mountains as the radiation intensity is particularly high. 

HELMET

Weight

The Rally ski helmet with visor with its stylish design is very light and weighs just 535g.

 
Material, construction & ventilation 

INMOLD shell with shock-absorbing shell: the helmet has an INMOLD shell with four ventilation openings. The adjustable ventilation openings are easy to slide open and shut, even when wearing gloves or with cold hands. The inside of the helmet consists of breathable fabric. This removes dampness from the body and ensures the material dries more quickly, meaning that the head feels warm and pleasant. 

Fit and size

The excellent fit and outstanding workmanship leave nothing to be desired. The size adjustment wheel means the helmet can be precisely adjusted to fit every head. This also of course contributes to absolute safety. The helmet also has a ski goggles holder if you prefer to wear goggles instead of using the visor.

User comfort

Comfortable foam prevents pressure marks from forming on the face. It adapts to the face to ensure comfortable wearing. Ear pads and inner padding ensure user comfort.

OTG (Over the Glasses) ski helmet with visor for glasses wearers

The special feature of this helmet is its attached movable visor. This technical feature makes the helmet ideal for glasses wearers. 

Spare parts

Visors and screws are available from the slokker online shop.

Safety

The helmet meets standard EN 1077 Class B, offering optimum protection at maximum performance.

 
Categories overview
Protection level
Category 0
Category 1
Category 2
Category 3
Category 4
Mirroring

Colorless
Very clear glasses

Slightly tinted
Medium tint
Dark tint
Very dark tint
Transmittance
100 - 80 %
80 - 43 %
43 - 18 %
18 - 8 %
8 - 3 %
Use
Very limited protection from sunrays
Limited protection from sunrays
Good protection from sunrays
High protection from sunrays
Very high protection from sunrays